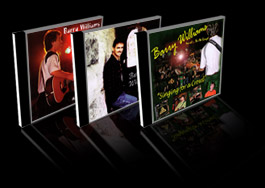 Barry's 3 Albums
1. "Singing for a Crowd" (2007)
(live CD)
The song Singing for a Crowd" is a song Barry wrote describing what he goes through during a typical night of performing & it explains why he does what he does. You will find yourself singing along the first time you hear it ...... SOCIABLE!!!!
2. "Here We Go" (2001)
(live CD)
A fun CD of pub favourites performed live. It is a recording of just Barry & his acoustic guitar. No studio magic & no over dubs. Just one take & what you get is how it sounded at the pub.
3. "My Lady" (1999)
(Studio recording)
This CD features some of the best musicians in Atlantic Canada & continues to get good radio play. Recorded in beautiful St. John's Newfoundland this CD is composed of 11 tracks, 9 of which were written by Barry. The song "Everybody" features Barry's family & friends singing backup vocals.